MCHP announced a deal to acquire ATML on January 9th, 2016, for $3.5 billion or $8.15 per share.
ATML posted revenue declines of nearly 17% in 2015.
Both companies have exposure to Asia in excess of 40%.
The ATML acquisition will increase net sales by 55%, but represents a return on capital of less than 4%.
For clues, I take a look back at the Standard Microsystems acquisition of 2012.
I posted an article on Tuesday that cast my doubts on the merits of the Atmel (ATML) acquisition by Microchip Technology (MCHP). While the purchase absorbs a significant competitor and offers access to new product markets, it is an expensive and complex endeavor for MCHP that represents a radical departure from the incremental acquisition history that has proven successful.
The $3.5 billion acquisition of ATML is a risky proposition. It will increase MCHP's sales by a substantial 54% from $2.2 billion to over $3.3 billion. Meanwhile the absorption of the purchase comes at a time when ATML is suffering serious declines in revenue – as much as 17% from 2014 to 2015. The purchase price of $8.15 per share is over 100 times TTM earnings.
China's slowdown seems to be having a negative impact on the semiconductor industry.
For this reason, in my estimation, the ATML acquisition presents MCHP with a mediocre return on capital. GAAP earnings at ATML will be in the low $30 million range for 2015 – a return that is less than 1% on the $3.5 billion price. Free cash flow will be around $115 million – a 3.24% return on capital.
In defense of the optimism at MCHP, there is a lot of room to improve margins. ATML has consistently shown a GAAP operating margin below 10% while MCHP's was as high as 41% in FY 2014 and 35% in FY 2015. MCHP believes that an additional $170 million can be generated from revenue growth and cost savings, which pushes the return above a more respectable 8%.
MCHP has $2.4 billion in cash
In the acquisition of ATML, it will be using its treasure chest of over $2.4 billion on hand, borrowing $765 million, and issuing 13 million shares. ATML holders get $7 per share in cash and $1.15 in MCHP stock. While the cash outlay is massive, MCHP has consistently shown positive cash flow of over $500 million annually, so the coffers should be replenished fairly quickly.
MCHP has successfully completed many acquisitions. They tout their record in a slideshow on their investor relations page. It shows organic net sales have expanded at an 8.3% compounded rate for the past six years, and 6.3% for the past three years. Meanwhile, including acquisitions, net sales expanded at 17.3% per year for the six-year period and 13.1% per year over three years.
But have the acquisitions really been that good?
I decided to look at the August 2012 acquisition of Standard Microsystems (SMSC) for $938 million in cash. It took place in fiscal year 2013, and was completely integrated in FY 2014 MCHP earnings.
Net sales increased from $838 million to $1.13 billion between 2013 and 2014. GAAP net income more than doubled to $327 million.
To investigate, I took the sum of MCHP's numbers from FY 2013 and SMSC's numbers from FY 2012 (roughly equivalent periods) – a hypothetical total as if the acquisition was merely accretive to earnings. These numbers are shown in the taupe column in the center below. Next, I compared the sum to the actual reported FY 2014 results (blue column). One can see that gross profit was about $74 million higher than the direct sum.
Net income shows a much wider difference than expected. MCHP's operating margin leaps to 40%. This is impressive, particularly in light of the 13% operating margin absorbed from SMSC.
Interestingly, if one takes a look below the income statement, the results are not quite as strong as they seem.
MCHP moved about $96 million from the income statement to the balance sheet. It is very apparent that MCHP capitalized about $50.5 million of R&D expenses after the merger. It is also evident that operating expenses improved by $45 million after SMSC's depreciation was reduced.
The final column (dark beige) shows the capital expenditures added back to R&D and the depreciation restored to SG&A. If those actions are taken, GAAP earnings are closer to $300 million than $395 million.
(click to enlarge)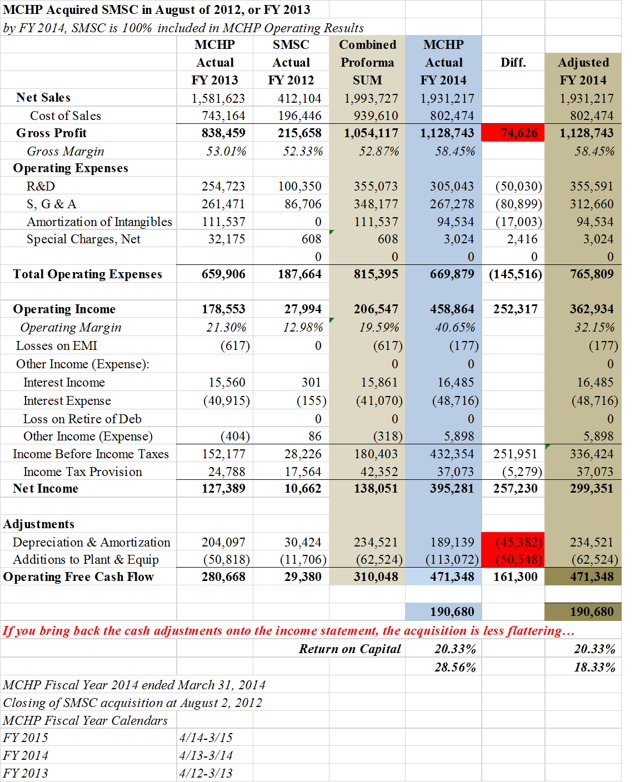 The acquisition of SMSC still looks good after the adjustments, but not quite as good as MCHP claims. Using operating cash flow, the return on the $938 million purchase is 20.33%. However, the GAAP earnings return on capital drops from 28.56% to 18.33% reflecting the higher adjusted operating expenses.
Finally, I think the operating margin improvement is slightly suspect. Someone with much more time (and accounting skills), can probably sort out the large increase in inventories that were booked in FY 2013. It may be possible that MCHP took the SMSC inventories on the balance sheet at the end of 2013 and recognized them as sales during FY 2014. This is merely a hunch.
I have produced a similar comparison of the pending ATML acquisition that I will share in a subsequent article.