PPC boasts a hefty return on capital and a recent acquisition will boost sales.
Earnings power valuation indicates a stock with 15% upside potential.
Buyers should be wary of declining margins.
Pilgrim's Pride (NYSE:PPC) is the second largest poultry producer in the world. The Greely, Colorado corporation boasts that it supplies 1 out of every 5 chickens in the US. The company has a market capitalization of nearly $4.6 billion.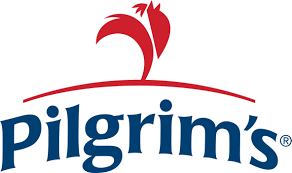 I have decided to focus on two valuation metrics: an earnings power valuation favored by the Columbia School of value investors, as well as a discounted cash flow model. In both instances, my computations show a company capable of producing share price returns of 15-25%.
PPC stock has been cut in half since the heady days of 2014. The stock peaked in December of that year at $37 per share and has fallen to $18.66. It briefly touched $17 in early December 2016. The decline represents a buying opportunity.
The Good
PPC completed the acquisition of GNP on January 6th. The addition of the premium poultry producer is set to boost sales by $460 million annually. This represents a 5.2% increase over the projected $8.05 billion in 2016 sales. Poultry is growing as a primary source of lean protein among consumers. The macroeconomic, dietary and demographic trends favor the business on the whole. (Note: Recent income statements are posted below.)
Strong returns on capital make PPC an attractive investment. Returns on total capital will exceed 25% again in 2016. Returns on equity have consistently been above 30%. The addition of leverage is set to boost the equity returns even higher.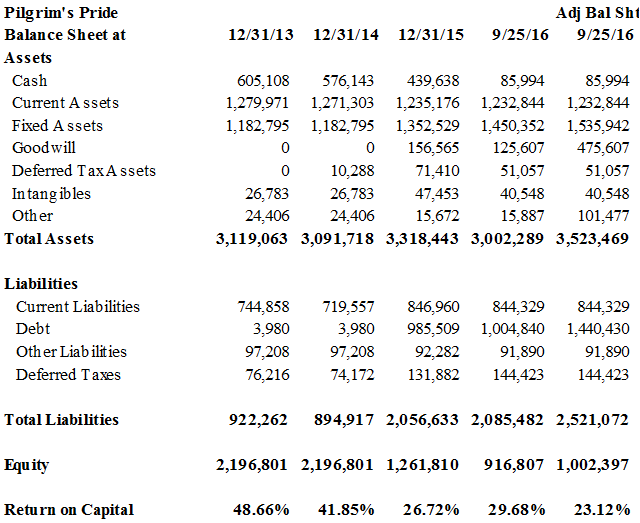 Note: The adjusted balance sheet adds approximately $86 million in capitalized operating leases to fixed assets as well as an offsetting addition to debt. For simplicity purposes, The $350 million GNP acquisition is added entirely to goodwill on the asset side and debt (line of credit) on the liability side.
The Bad
I was going to wait to post an article on Pilgrim's Pride until after they announce quarterly earnings on the 9th of February, but the dramatic 4% drop Tuesday inspired me to rush to press in spite of the risk that my numbers may prove to be off-base by the end of the week. Notably, Wednesday morning, the price has rebounded above $19.
This volatility reflects recent news from Tyson Foods (NYSE:TSN) as well as a fear of higher trade barriers. The Financial Times reported that Tyson has faced headwinds in their poultry business due to a variety of factors, including margin pressure due to the recent rise in the price of soybeans. More disconcerting is the revelation that the company is under investigation for chicken price collusion. If other industry leaders like PPC are shown to be involved, speculation about hefty fines and ethical challenges could place the stock under pressure.
Like Tyson, operating margins have been declining. Following a peak of 14% in 2014, they dropped below 13% in 2015 and look set to barely surpass 9% in 2016. The recent decline in corn prices should help margins going forward, but soybean prices have not been as cooperative.
The most striking aspect of poultry-related stock prices over the past three years has been the failure of markets to properly assess the benefits of the avian-flu outbreak. Poultry-related firms like Sanderson Farms (NASDAQ:SAFM) and Cal-Maine (NASDAQ:CALM) are but two examples where markets wildly overestimated the sustainability of conditions during 2014 and 2015. In fact, these years appear to be an aberration rather the norm. Margins and revenue levels were elevated to unsustainable levels in hindsight.
Meanwhile, The Economist writes that talk of NAFTA renegotiation would have an adverse effect on PPC. Tariffs on chicken would render the white meat less competitive in the Mexican market if Mexico were to exit NAFTA. Agricultural states that rely heavily on exports to Mexico are worried about the potential loss of free trade.
Mexico is certainly a concern. The decline in the peso is well-documented and PPC is facing adverse currency conditions. 18% of revenues are generated in Mexico, so unraveling NAFTA and continued dollar strength could weigh heavily on the business.
The company has already paid out some big cash dividends on a one-off basis. In 2015, the company paid shareholders $1.5 billion, and then followed with another $700 million gift in 2016. PPC increased debt from virtually zero to over $1 billion during 2015 as a result. Borrowing to pay dividends is not necessarily cause for alarm for a company set to generate nearly $500 million in cash flow after capital expenditures, but it leaves a balance sheet that is slightly more risky. Indeed, free cash flow has dropped from a peak of $840 million in 2014.
The Mixed Bag
PPC is owned largely by JBS S.A. of Brazil. The world's largest protein producer, JBS holds 75.5% ownership. Getting on board with a minority shareholding position presents the risks of potentially hazy corporate governance issues and the possible divestiture of stock by the Brazilian giant. On the other hand, a massive international player offers worldwide growth opportunities as well as the possibility of an outright acquisition.
Earnings Power Value
The weighted average cost of capital I employed for this EPV model is 6.94%. The cost of equity is 8.31% and the weighted average cost of debt on a post-tax basis is 2.20%. Debt represents less than 24% of capital.
Earnings before interest and taxes will be around $742 million in 2016. Using a 35% tax rate, subtracting $220m of capital expenses and adding $168 million of depreciation leaves a net free cash flow of $439 m. I added another $40 million of working capital to derive a steady-state free cash number of $475 million. Taken at the rate of 6.94%, the EPV is slightly less than $6.9 billion. Subtracting debt of $1.4 billion, but adding cash of $86 million, leaves a net equity value of $5.55 billion or $21.77 per share.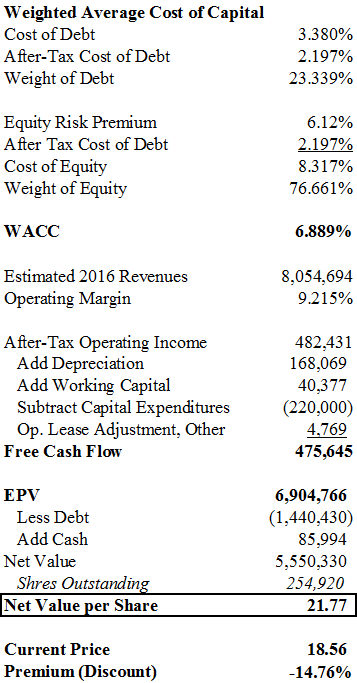 Discounted Cash Flow
Here the upside is much higher. I employed a beta of .80 and the weighted average cost of capital drops to 6.17%. I held operating margins flat at 10% and showed the revenue growth at the 2.45% 10-year treasury bond level. I show capital expenditures ramping up at a fairly aggressive pace. The end result is a value of $24.25 per share. This represents a 30% premium.
DCF valuations are subject to so many variables that they are often decried as meaningless in so far as the modeler makes assumptions about a variety of future outcomes. However, it provides the author with another layer of confidence.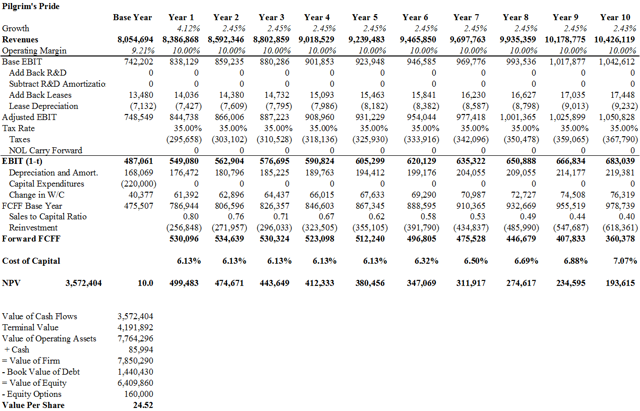 The Pilgrim's Pride story is a good one in spite of recent challenges. Ultimately, I believe the consistently high returns on capital and the growth of poultry in most diets will reward shareholders in the future.
Appendix: Historical income statements, with the author's estimate for 2016 and 2017.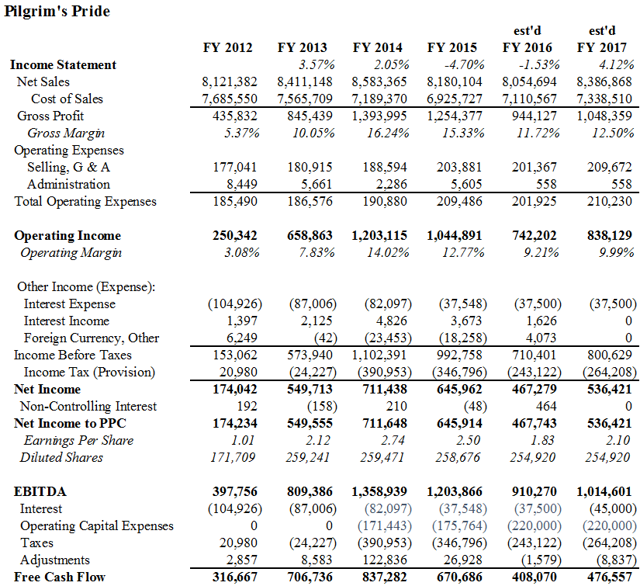 Disclosure: I am/we are long PPC.
I wrote this article myself, and it expresses my own opinions. I am not receiving compensation for it. I have no business relationship with any company whose stock is mentioned in this article.
Additional disclosure: As always, the author has presented his own opinions and analysis. You should conduct your own due diligence before investing. I welcome feedback and discussion and I am happy to correct any errors or add any pertinent information to the article.