This article was originally published on Seeking Alpha on August 17, 2016.
ULTA consistently posts annual sales growth of 20%, and the stock is up 175% in two years.
But the stock trades at 50 times earnings and a 30% premium over its intrinsic value.
Momentum seems unstoppable, but buyers must cautiously consider the downside risks.
Ulta Salon, Cosmetics & Fragrance (ULTA) has been a phenomenal investment. Trading around $266 per share, the stock has risen 178% over the past two years. Can Ulta continue its outstanding run? Yes.
However, there is a large difference between the words "can" and "should." In this author's opinion, Ulta is overvalued by more than 30%. Other authors agree. If you are new to Ulta, I recommend Vijar Kohli's recent Seeking Alpha post for an understanding of the business. I will comment on valuation and leave the characteristics of the market and personnel largely out of this article.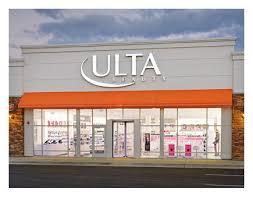 Why Ulta can continue to rise
As one commenter boasted elsewhere, Ulta is a lot more likely to hit $300 than $200. The bullish sentiments are easily found among Ulta fans who have been downright contemptuous of bearish articles. And who can blame them? Shorting Ulta has been a sucker's bet. The price chart is jaw-dropping.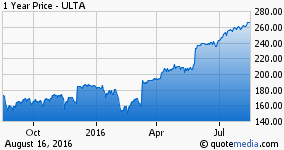 The story at Ulta has been a rollout of about 100 new stores per year since 2012. The chain reached 874 stores at the end of 2015 and plans to push towards 975 by year-end 2016. Unlike many expansion plays in retail where new store growth masks flat same-store sales, Ulta has posted some massive comparables in the 10% range for over 5 years. The new stores have pushed total sales growth in excess of 20% per year. A 35% gross margin and 12.9% operating margins have netted substantial gains.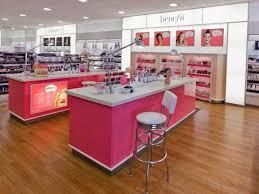 The chart below shows the growth trajectory. More importantly, I have compiled a return on invested capital by taking annual capital improvements, new store start-up expenses and the annual change in capitalized leases. 20% returns on capital (pre-tax) have been posted, on average, annually. For a company with no debt (if you exclude capitalized operating leases of $1.5 billion), the returns are fantastic. Sales per square foot have reflected improved customer loyalty programs and the introduction of more luxury cosmetic brands. Ulta has been a buyer of its own shares and paid surplus cash as dividends in 2015. Ulta will announce earnings on August 25th and should extend its streak of stellar quarters.
(click to enlarge)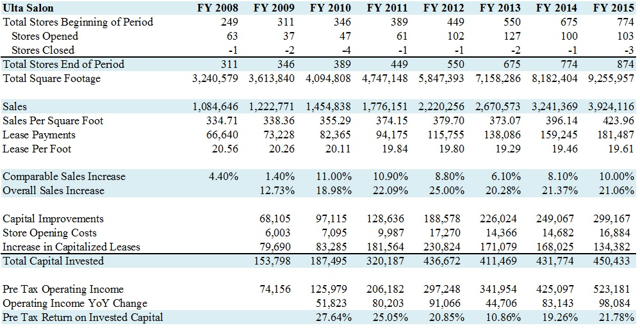 The Bear Case
I have read comments by Ulta bulls calling for bearish authors to back up their sentiments with a short position. To my bullish friends, I confess that I count myself among the chickens. To go against a momentum stock that has no apparent speed bumps on the horizon would be a fool's errand. The largest threat to Ulta is a dramatic slowdown in consumer spending, but improving job reports and expanding wage growth paint a positive macroeconomic picture.
Therefore, I offer my valuation as a caution flag to those who may be interested in entering a new position at Ulta or the lucky ones who have been on a one-way ticket to riches and may be considering a removal of chips on the table.
I present below a discounted cash flow analysis that results in a valuation of $207 per share.
Let's talk about the base of the model: management expects comparable sales growth between 10-12%. I add about $360 million from new stores to arrive at overall 2016 sales growth of 20%. Operating margins are expected to be slightly lower but still above 12.50%, and earnings will grow 20-22% to over $6.15 per share. Looking forward, the model assumes consistent margins above 12.50% at the operating level and growth on the top line slowly tapering from its heady 20% annual rate. I give Ulta the benefit of the doubt with a very low weighted average cost of capital of 5.36%.
(click to enlarge)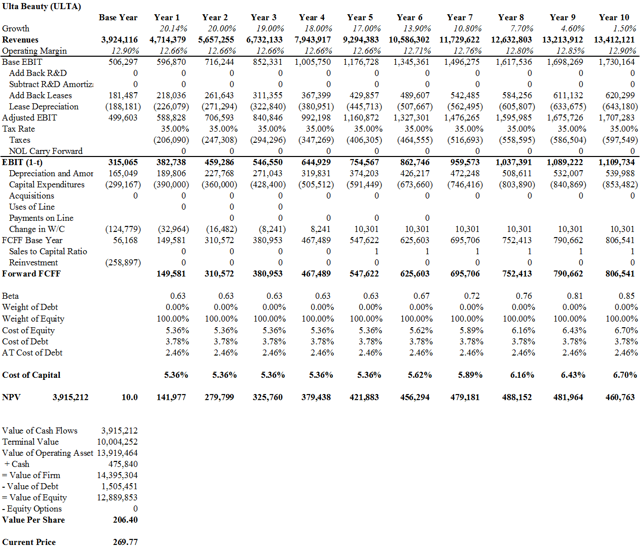 Three yellow flags
I have also given Ulta a generous assumption that working capital will be positive in the future. The company has wisely expanded through relatively low capital investments – stores are all leased. However, each new store requires a large investment in inventory. In this regard, working capital turned significantly negative in 2015. Failure to move product efficiently could prove to be a drag on future cash flow. For purposes of my model, I do incorporate a positive working capital trend in Ulta's favor.

A second word of caution can be found within the capital improvements line item. Management has announced that capital improvements will exceed $390 million for 2016 – up from an original projection of $300 million. The company has embarked on a plan to showcase the introduction of new luxury brands. Not surprisingly, higher-end cosmetic brands have a desire to be presented as a distinct upgrade from the typical fare that can be bought at your neighborhood CVS (CVS), Walgreens (WBA), or Target (TGT). The buildout of exclusive store displays has become a necessity. Investors should be vigilant about future capital expenditures.
Third, competitors aren't going to sit back and relax. Macy's (M) may be derided as a dinosaur, but it won't go down without a fight. As Ulta pushes into the luxury categories, Sephora will push back. Finally, Ulta has built its brand on the back of less expensive and widely available cosmetics, by offering better service and a dynamic sales environment. But for the busy shoppers, it's very easy to pick up an inexpensive eyeliner brush while picking up a carton of milk.
Buyer Beware
Finally, to those of you who scoff at DCFs and their widely variable inputs, I offer more mundane estimates of value (or over-value as the case may be): Ulta trades at 44 times 2016 earnings and 25x forward EBITDA, and it offers a pre-tax earnings yield of 3.09%. By any measure, these metrics are in the stratosphere. Tread carefully.
Exhibit: ULTA Income Statements with author's 2016 estimate.