Summary
MNRO wants to grow revenues by 15% per year for the next five years.
Icahn's acquisition of Pep Boys indicates MNRO is overvalued by 20%.
Future returns on capital imply a value of $61 per share.
Monro Muffler Brake, Inc. (NASDAQ:MNRO) has grown to 1,000 stores primarily through acquisitions. In March of 2013, shares traded for about 40. Today, the price has pushed beyond the $73 level (note: since this article was published, MNRO has dropped to $68.50). This impressive price surge overestimates the value of future business growth by as much as 20%.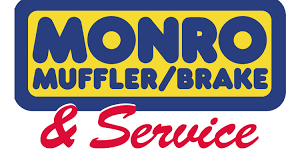 The Pep Boys Comparison
Comparing Monro to Pep Boys (NYSE:PBY) offers the first clue that price has outpaced value. Carl Icahn formalized the acquisition of PBY last December for just over $1 billion, or $18 per share. PBY is more than twice the size of MNRO. While MNRO will exceed $950 million in sales when its fiscal year closes this month, PBY had nearly $2.1 billion in revenues for 2015. Icahn's purchase represents an EBITDA multiple of 11.67 and an EV/EBITDA multiple of 13.08. In contrast, MNRO trades at 14.44x EBITDA and 16.90 EV/EBITDA. Applying a 12 multiple to EBITDA implies the stock is 20% overvalued.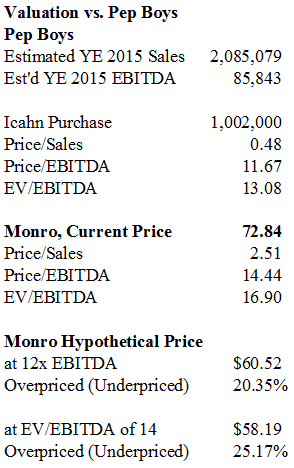 Growing faster than they've ever grown before
CEO John Van Heel touted an ambitious plan during the January 26 conference call:
Our 5-year plan remains unchanged and continues to call for on average 15% annual top line growth, including 10% growth through acquisitions, 3% comp and a 2% increase from greenfield stores.
In a highly competitive environment where inflation runs below 2% and consumer whims are subject to the variances in weather, comp sales will not grow faster than the economy – 3% is a stretch. Acquisitions will clearly have to carry the load. MNRO has a solid acquisition track record. They integrate stores well and margins and earnings have responded accordingly. However, Monro has grown revenue below 10% for the past four years. Running up the score by 15% annually for five years into the future sounds like a moonshot by comparison.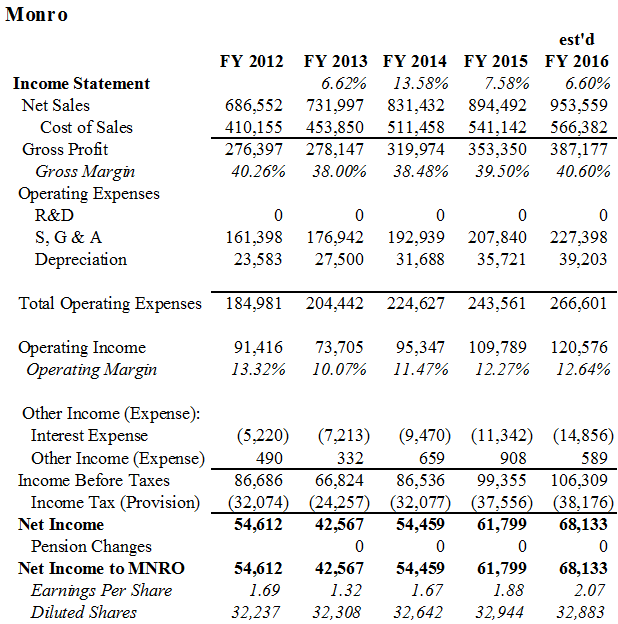 The only way to grow: reinvesting capital effectively
In evaluating investments, my primary question is the following: Can the company earn a return on capital that exceeds its cost of capital by a margin sufficient to achieve the growth necessary to sustain its value?
FY 2016 return on capital will be around 11% for MNRO.
| | |
| --- | --- |
| | FY 2015 |
| Cash | 7,730 |
| Capital Leases | 133,145 |
| Debt | 122,543 |
| Equity | 434,183 |
| Total Capital | 721,569 |
| Est'd FY 2016 NOPAT | 78,374 |
| Return on Capital | 10.86% |
Returns on capital have been declining at MNRO:
| | | |
| --- | --- | --- |
| Year | Capital | Return |
| FY 2012 | 319,569 | 18.59% |
| FY 2013 | 375,406 | 12.76% |
| FY 2014 | 550,325 | 11.26% |
| FY 2015 | 601,819 | 11.86% |
| FY 2016 | 721,569 | 10.86% |
Given these trends, how will MNRO hit 15% revenue growth going forward? Let's start with the base FY 2016 estimate shown above and use a forecast return on capital of 11%.
Since 3% of growth will come from comp sales, it is the 12% growth needed from acquisitions and "greenfield" stores that deserve our attention.
Indeed, CEO Van Heel outlined some progress they've made negotiating new purchases:
With more than 10 NDAs currently signed, we remain very optimistic about the attractive acquisition opportunities we see in the marketplace… These NDAs represent chains of between 5 and 40 stores located within our 25 state footprint.
Let's work backward. A return on capital of 11% implies that for every dollar the company invests, it will yield 11 cents in operating income less taxes. Assuming a 35% tax rate implies an operating income level of 17 cents. An operating margin of 12.65% translates into $1.34 of revenues. Therefore, every dollar of investment generates $1.34 in revenue.
If forecast revenue needs to increase by $143 million to slightly less than $1.1 billion to hit the 15% target, MNRO will have to invest about $107 million. In FY 2016, MNRO had approximately $109 million in operating cash flow. This amount was mostly sufficient to pay $20 million in dividends, $48 million in acquisitions and $38 million in capital improvements.
An acquisition and construction budget of $107 million will require only between $20 and $30 million in additional long term debt. This is a very manageable amount of leverage. I have presented below a discounted cash flow analysis that utilizes the aforementioned sales-to-capital ratio of 1.35.
Unfortunately, the 11% return on capital is merely sufficient to justify a price around $60 per share.
Discounted cash flow projection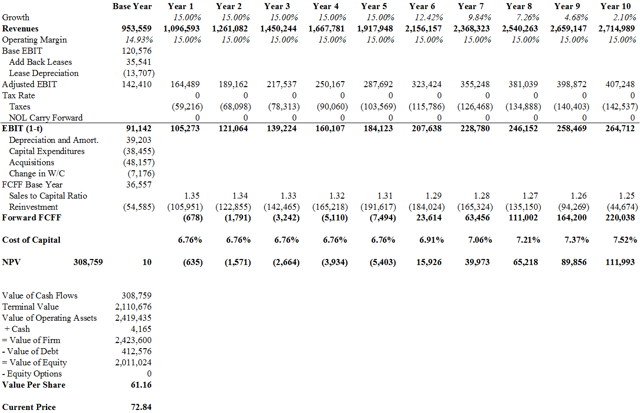 Explanation of assumptions
The CEO's revenue growth target of 15% for five consecutive years was utilized. The growth trails off for the following five years.
An operating margin of 15% was employed instead of 12.65%. The reason for the additional margin is the result of the exercise I went through to capitalize operating leases. MNRO has capital lease obligations on the balance sheet and I added the operating leases to both sides of the balance sheet. The amortization of the asset is shown as a benefit to EBIT.
The cost of capital employed as a discount rate is 6.76%. This was derived from a leveraged beta of .85 for equity and 5.38% for the cost of debt.
Debt cost is calculated as follows:
| | | |
| --- | --- | --- |
| Long Term Debt | 1.75% | $127,359 |
| Capitalized Leases | 7.15% | $138,680 |
| Operating Leases | 7.15% | $123,362 |
| Weighted Average | 5.38% | $389,481 |
Balance sheet with adjustment for operating leases: