Note: This article was published on Seeking Alpha on April 20,2016. JBT has declined from $60 to $53 since the article was published.
Summary
The Chicago-based company specializes in food processing equipment as well as airport services.
JBT has nearly doubled since September.
The stock price does not reflect declining returns on capital.
A short candidate, but caution is required.
John Bean Technologies (NYSE:JBT) has been one of the hottest stocks of the past twelve months, surging from $32 at the beginning of September to $60 today. Those who joined the party last fall have reaped the enviable reward of 100%.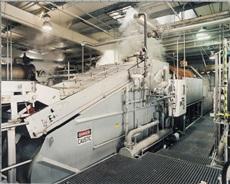 JBT has a market capitalization of $1.7 billion with 2015 sales of $1.1 billion. The Chicago-based company is a leading food processing technology company which offers specialized equipment and systems for protein and liquid foods. JBT Food Tech supplies 65% of revenues. Curiously, JBT also has a sizable business servicing airlines and airports, including passenger and cargo loading equipment. Based upon recent acquisitions, it's clear that John Bean is focusing on growth in the food industry.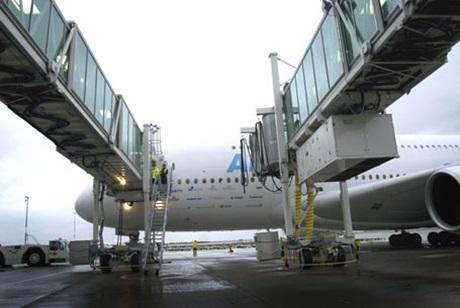 Markets have rewarded the company for 15% revenue growth projections in 2016. Operating income is forecast to increase by 30% as some restructuring charges burn off. Operating income projections imply an operating margin of slightly over 8% with minimal debt service. JBT should earn $58.6 million after taxes, or $1.97 per share. This is a hefty 30x future earnings and it raises questions about the ability to live up to these lofty expectations.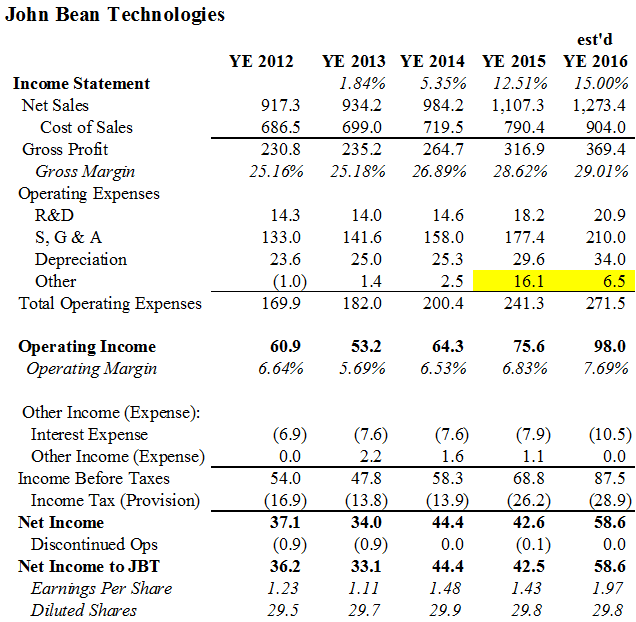 Note: restructuring charges are highlighted above.
On a comparison basis, JBT seems reasonably priced. However, a discounted cash flow exercise shows that the price could be much closer to $41 per share.
First the comparison.
A quick glance of Middleby Corporation (NASDAQ:MIDD) offers comfort to JBT shareholders. The $6.2 billion food processing equipment business had sales of $1.82 billion in 2015. Operating income was $331 million, or a margin of 18%. Price to EBITDA stands at 16 for MIDD and 14 for JBT. EV/EBITDA is 18 at MIDD and 16 at John Bean. The much higher operating margin at Middleby is the outlier, and it would seem that the company is deserving of a higher value than JBT. Nevertheless, for arguments sake, we'll say that on a couple of metrics JBT is priced in line with a major food industry player.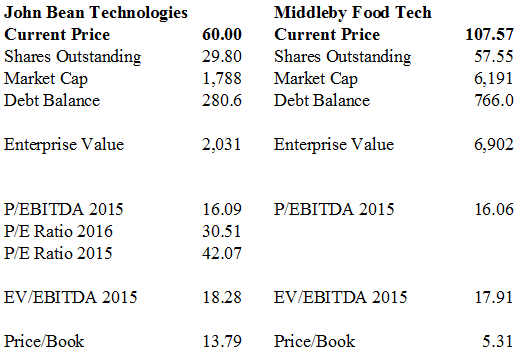 Discounted Cash flow implies 25% Downside
My discounted cash flow analysis shows that JBT is overpriced by more than 25%. A declining return on capital from acquisitions is the main culprit. An acquisitive company can often look more profitable in the near term, while struggling to reap rewards in the future. Revenues get booked early while expenses can be deferred and capitalized. As long as the game continues, revenues jump upwards while expenses lag. I don't accuse JBT of shenanigans. However, I do believe JBT is not going to repeat its recent impressive string of over 19% returns on capital.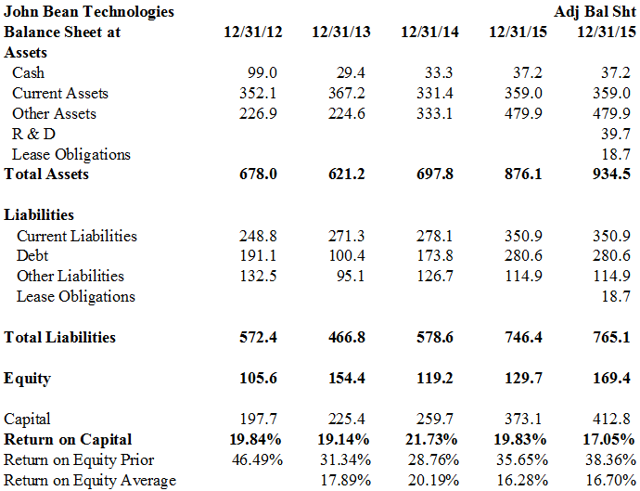 Note: The author has capitalized operating leases and R&D for an "adjusted" 2015 balance sheet
JBT has presented a clear growth strategy through acquisitions. Indeed, management guidance for 2016 outlined growth in revenues of 15% with 5% from organic sources and 12% from acquisitions.
Excluding restructuring charges (highlighted in yellow above), JBT had an operating margin of 8.04% in 2015. Forecasts of EBITDA and net earnings imply a similar margin of 8.05% for 2016. Revenues for 2016 are forecasted at $1.273 billion. It appears that roughly 83% of revenues are from continuing operations and $204 million from acquisitions. The March 2016 Investor Presentation concurs with my $200+ million revenue figure from acquisitions.
The recent string of purchases includes the following food processing businesses:
| | | |
| --- | --- | --- |
| Date | Target | Price |
| July 2014 | ICS Solutions, Form-Cook | $ 37.7 m |
| Dec 2014 | Wolf-tec | $ 53.7 m |
| July 2015 | Stork Food & Dairy | $ 50.7 m |
| Oct 2015 | A & B Process Systems | $ 102.9 m |
| Jan 2016 | Novus | undisc. |
| | Total | $ 243 m |
| | | |
Interpreting the performance of the acquisitions is a frustrating exercise. JBT offers no pro forma information in its reports, nor does it break out prior results for the acquired businesses. This leaves one with the task of extrapolating growth segments.
Comments about the purchase of protein processor Wolf-tec in December of 2014 reveal an acquisition that seems less than stellar. Management indicated that Wolf-tec would provide $30 million in revenues in 2016, but its EPS contribution estimate contrasts with its optimistic tone.
The acquisition of Wolf-tec is expected to generate over $30 million of revenue in 2015 with EBITDA margins higher than our core FoodTech business. In 2015 we expect a $0.12 EPS contribution before integration and purchase accounting impact. This translates to $0.06 EPS contribution on a GAAP basis…
Wolf-tec's 6 cents per share in net income translates into $1.7 million. If you back into the revenue number using a margin of 8.7%, the net operating income after taxes is $1.88 million, for a disappointing 3.5% return on capital.
I modeled the components of 2016 growth below utilizing Wolf-tec as a proxy for the other acquisitions. In order to generate a forecast 8.05% operating margin (per management), the organic business were shown at 5% growth and a 7.7% margin. Meanwhile, the other acquisitions were given an extra point of margin, while a hypothetical acquisition was given a 14% margin. The acquisitions were given a 5% revenue boost as well.

The author assumed that 8.05% margin translates into approximately 7.7% for continuing operations and 8.7% for stabilized recent acquisitions. 2016 acquisitions (Novus, et al.) are modeled to have a margin of 14%.
Indeed the $243 million (and more to be added in 2016) spent on acquired businesses will generate about $20 million in net operating profit after taxes, or a 6.4% return. This amount is less than JBT's 8.32% weighted average cost of capital.
John Bean enthusiasts may beg to differ, and I welcome your input. You may offer me guidance on how I am misunderstanding the acquisition strategy, what kind of synergies are available, and how well management executes. I am happy to revise my numbers to reflect new insights. However, I am certain that a company forecasting revenue growth from acquisitions of 12% during 2016 is in no way earning a return in excess of its cost of capital for the $243 million spent on new businesses.
My model incorporates the following assumptions:
A weighted average cost of capital of 8.32% using a beta of 1.3.
Three years of 15% revenue growth followed by a 10% increase in year 4, and tapering off from there.
An operating margin of 8.05% tapering to 7% in year 10.
$484 million in acquisitions from 2016 to 2018, employing a $435 million line of credit that is paid down in subsequent years.
I also gave JBT a boost to free cash flow by capitalizing R&D and operating leases.
In the end, the acquisition strategy is where the rubber meets the road, if strong growth in earnings and revenue are to continue. Applying a 6.4% return on capital for the $484 million in acquisitions weighs heavily on the future with little upside.
In alternative scenarios, the value remains lower than the current market price. Using a 12% return on capital assumption brings the investment requirement down to $232 million and justifies a share price of $48. Meanwhile, investing at the cost of capital of 8.32% justifies a price of $46. Finally, a return on capital of 16% implies acquisition requirements of only $178 million and justifies a $50 share price.
Ignorance breeds caveats…
I have entered a short position in JBT at slightly above $60.
However, I would like to purchase some long-dated out-of-the-money calls to hedge the trade. I have to assume that, in spite of the confidence in my analysis, the market is smarter than me. The game is rarely kind to the novice analyst and speculator. Messrs Buffett and Munger always evaluate intrinsic value, but disdain the machinations of spreadsheet jockeys. Unfortunately, the highest contract strike price available is $65 and the price is prohibitively expensive.
I do believe JBT has a strong management team and a lot of board expertise. JBT has an impressive roster of diverse and sophisticated customers. It has recognized that food processing, particularly in liquids and proteins, is a growth market that is increasing as consumers around the world demand better nutrition. It has hitched its train to this industry and I believe the airport services business should be sold when a willing buyer emerges. Most of all, the biggest risk I see to a short position is the possibility of a sale of the entire business. If I opened Seeking Alpha one day to find that a Chinese buyer had emerged, it probably wouldn't surprise me.
I have attached my DCF as an exhibit. As I noted above, comments and input are always welcome.
Disclosure: I am/we are short JBT.
I wrote this article myself, and it expresses my own opinions. I am not receiving compensation for it. I have no business relationship with any company whose stock is mentioned in this article.